Believe in Haiti has a very dedicated and qualified Board of Directors. Each Board member is passionate about Believe in Haiti's programs, mission, and vision. Board members serve on a strictly volunteer basis and receive no compensation. Board meetings occur monthly, and as needed throughout the year. Board members are required to visit Haiti on a biannual basis to develop and maintain relationships with the people that we serve, which deepens the Board's commitment to the strategic objectives of Believe in Haiti.
Justin and Whitney Henwood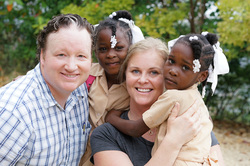 Justin and Whitney Henwood
Co Founders
Justin and Whitney lived in Haiti in 2012 and have been continuously involved since that time. While in Haiti their family had the opportunity to meet and work with the people of St. Roch. It was through these efforts that the need for the current organization was discovered. Whitney and Justin, along with the local liaisons began the current feeding program to help provide for the physical needs of the people of St. Roch Haiti. Whitney is a Registered Nurse and worked in Haiti with the people on acute medical needs and medical education. Justin worked in Haiti as an engineer and together they are intensely aware of the situation in Haiti. They have seven children that they are raising and have been "Mom & Dad" to many others through the foster program in the US and Haiti. Their passion is keeping families together with the hope that through their efforts with the feeding clinic and school sponsorship program they can ease the burdens of Haitian parents who are faced with losing their children on a daily basis.
Jason Standifird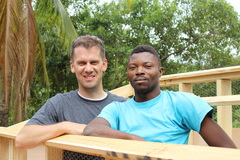 Jason Standifird
Treasurer
After graduating from Boston College with a degree in Finance and Accounting, Jason worked for, and held various management positions with, Pricewaterhouse Coopers in their Assurance and Business Advisory Services Division in Denver, Colorado. He left public accounting in 2003 to join American Medical Response (AMR) as their corporate controller, and over the next several years was given the role of SVP and Chief Accounting Officer of Envision Healthcare, the parent of AMR, where he was responsible for corporate accounting, financial planning and analysis, treasury, tax and other support functions. He transitioned to the role of Chief Financial Officer of EmCare, a subsidiary of Envision, in 2013. He is married to Michelle Standifird and lives in Parker, Colorado where they are raising their 4 children.
Jenny Allbright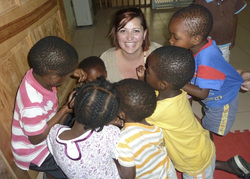 Jenny Allbright
Secretary
Jenny had the opportunity to go to Haiti in Nov. 2012. She immediately fell in love with the beautiful children and the country visiting. Haiti worked its way into her heart and settled in there to stay. Jenny has been married to her husband for 16 years and has four of her own children who she loves and adores and enjoys being home with them daily. As the secretary, Jenny is responsible for the day to day upkeep and communication that comes with running Believe In Haiti.
Gary Rolph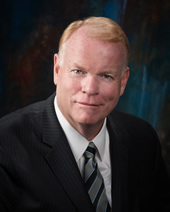 Gary Rolph
Finance Committee (Fundraising Specialist)​
Upon leaving Brigham Young University (Business) Gary joined Rollins Leasing Corp. He held multiple positions with Rollins include VP Sales for North American operations. Gary spent 2 years at Rollins Environmental Services in a turnaround role as VP of Sales. In 2001 he joined Idealease, Inc. as Area VP, then became the Sr VP of National Sales for North America in 2012. In addition to serving on the Board of Directors for Believe in Haiti he is the Vice Chair – Chair elect of the Board of Directors for the Arapahoe House. He is married to Deborah Rolph, they have 4 children and 11 Grandchildren. Gary and Deborah reside in Parker, CO.
Jensen Sutta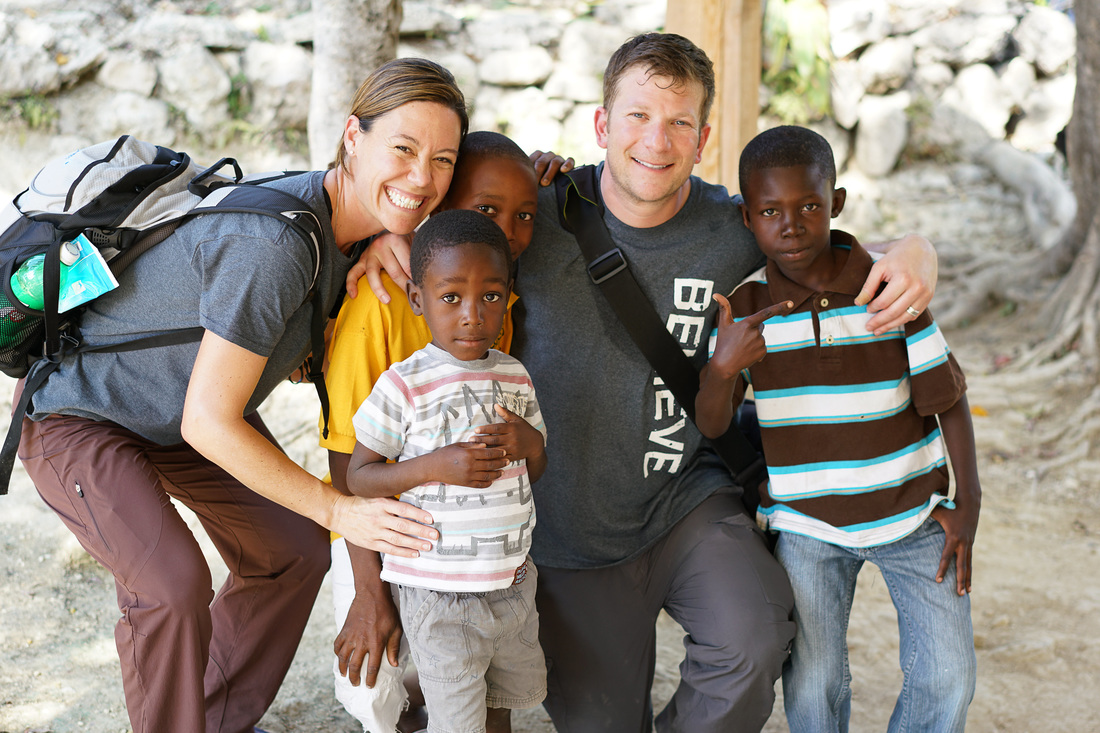 Jensen Sutta
Community Relations Committee (Social Media)
After obtaining a Bachelor's Degree in Biology from the University of Richmond, a rollover van accident left Jensen Sutta with the valuable perspective of how short life can be. In response, he started all over…starting with Photography 101 through a Master's Degree in Photography from the Brooks Institute in Santa Barbara, Calif. And he has been taking pictures ever since. In his first year of business, Jensen was fortunate enough to photograph Steven Spielberg, Leonardo DiCaprio, Paramount Pictures and the Polaroid Corporation among others and his career was off and running. Since then, wedding and event photography has taken him all over the world photographing the most recognized faces on the planet, including 27 U.S. states and 16 countries so far. Despite his success and the grandeur of the celebrity and high profile projects Jensen is regularly hired for, he truly has a heart for making change and shining a light on the nonprofits making a difference in our world and the people they are supporting. Following a recent trip to Haiti where he photographed the incredible work being done by a host of nonprofit organizations, Jensen said, "If I could make a living photographing nonprofit work like this I'd do it in a heartbeat. There are people in this world making a real difference and it makes me happy to share their story."
Kristen Richins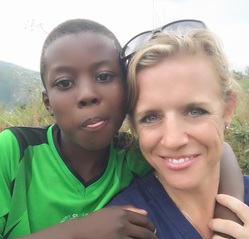 Kristen Richins
Community Relations Committee
Kristen is married and has two teenagers. Ashley, 18, is leaving for Dixie State in the fall and Ryan, 14, is starting at DCHS. She is self-employed. She assists her husband Dave with his real estate business and she creates social media marketing for her clients. She loves being behind the camera, writing, creating digital content and traveling. She has lived in Castle Rock for 19 years and absolutely loves it. They have no plans on moving. Kristen enjoys volunteering and has spent quite a bit of time helping at the Denver Rescue Mission.
Deborah Rolph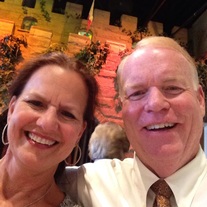 Deborah Rolph
Community Relations Committee (Local Events)
​Debbie is married to Gary Rolph, has 4 children and 11 grandchildren. After being raised in Detroit, MI she has experienced all the regions of the country including Salt Lake, Atlanta, Chicago, Philadelphia and currently calls Parker, CO home. Debbie has spent over 20 years working with Special Needs children from preschool through Jr.High. Her volunteer efforts in schools and orphanages expand across the globe and include areas like Russia and Peru. She has held leadership positions in children's, youth and women's organizations. In her spare time she enjoys reading, walking, baking, creating things, entertaining and watching movies with her husband.
Cary LaCouture, DDS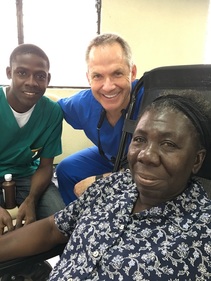 Cary LaCouture, DDS
Medical/Dental Team Leader
​Cary F. LaCouture, DDS, graduated from Baylor College of Dentistry 1985. He practices in Parker & Franktown, Colorado. He has been involved in dental research, teaching & practice development.He is affiliated with Local & International Humanitarian Organizations with recent dental clinic set-up & service in Cambodia & Haiti. Presently, he serves on the Board of Directors for Arapahoe House, Believe in Haiti, & Seeing is Believing & supports and serves Plan International & Ayuda Humanitarian. Cary is a 37 year Professional I USPTA member. He served as Head coach of Ponderosa High School Men's Tennis for 18 years. Cary and Karen have 6 children & 4 grandchildren. He is a passionate outdoor photographer & bi-Lingual in French.
Karen LaCouture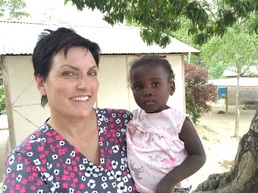 Karen LaCouture
Medical/Dental Team Leader
​Cary and Karen have 6 children and 4 beautiful grandchildren. They have lived in Franktown, Colorado for 27 years. Karen has her Masters degree in Guidance and Counseling from BYU. She has traveled in 33 countries, but more recently with a humanitarian dental service teams to Cambodia and Haiti. Karen has worked in various capacities in accounting/operations of Cary's two dental offices over the years. She has been involved in several interfaith dialogue groups at DU and traveled to Turkey with a group including those of Jewish, Muslim and other Christian faiths. She has held leadership positions in children's, youth and women's groups and taught early morning religious study classes to high school kids for 3 years. She loves to take opportunities to help those in need in whatever capacity she can and is delighted to be involved with the important work of Believe in Haiti.
Monica Allen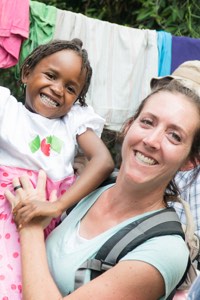 Monica Allen
Board Member
Monica has been involved with Believe in Haiti since her first Vision Trip in August 2017, where she fell in love with the country and the beautiful people of Haiti. A native Texan, Monica began nonprofit work as a young teenager and quickly developed a passion for charitable work. After completing her MA in Audiology from the University of Texas at Austin, Monica teamed up with a classmate to start and run a non-profit, Children's Hearing Aid Texas. After her family relocated to the Denver area, Monica changed careers and is currently an elementary special education teacher. Monica enjoys spending time with her husband and four children finding adventures outside and learning new things. In her spare time, she coaches children's Muay Thai and adult kickboxing, practices Brazilian Jiu Jitsu and Muay Thai, enjoys photography, music, her 2 dogs and anything involving the outdoors.
However You Can Help,
Helps More Than You Know
Believe in Haiti, a recognized 501c3 non-profit organization, is devoted to keeping Haitian families together through love, education, and service, while empowering individuals to rise above their current poverty level.
As a 501c3 non-profit foundation, your gifts to Believe in Haiti are tax deductible. If you have any questions about how to give or how to receive your donation acknowledgment letter in January for donations made the prior year, check out the 501c3 page under the About menu.
Subscribe to Our Newsletter
Sign-up to receive our email newsletter each month.
Address
Believe In Haiti
PO Box 935
Franktown, CO 80116
Phone
720-815-5756
Email
hope@believeinhaiti.org